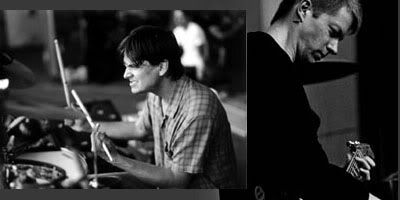 Wow. Imagine my suprise when I logged onto
Wilco World
tonight, only to find that drummer Glenn Kotche and guitarist Nels Cline are embarking on a small solo tour in September. Not only that, but they're going to be making a stop at Columbus's very own
Wexner Center
. We've been getting very lucky here in C-bus when it comes to Wilco-related appearances as of late. This past fall, the Wexner Center brought Jeff Tweedy and Glenn Kotche to the historic Southern Theatre for a very enjoyable solo/duo performance. Having seen Glenn solo already only makes me more excited about this upcoming show. It is amazing to watch this guy sit down in front of an average drumset and start constructing beats that sound so complex and powerful. The highlight of his previous solo-set was his performance of "The Monkey Chant", from his solo album
Mobile
, an 11 and a half minute opus which stretches the term 'drum solo' to its very limits. As far as Nels goes, I haven't actually heard any of his solo material although I did see him when Wilco came to town last year and have sampled his work with the Nels Cline Singers. I really don't know what to expect, I'm not even sure if the guy sings. My biggest hope right now is that this show will be one of the Wexner Center's fabled 'Black Box' performances. What this entails is closing the curtains on the main stage and erecting a smaller stage for the perforance on one side. Basically, during the show the entire audience is onstage with the band. I can tell you that it is a very cool and intimate setup, having attended The Fiery Furnaces 'Black Box' show last year. I'm really looking forward to this one, I think it has even surpassed my anticipation for the Flaming Lips/Sonic Youth shows.
While on the topic of all things Wilco, I might as well mention that I'm hoping to travel to Cincinnati to see them perform at the
Tall Stacks Festival
in October. Needless to say, I'm kind of hoping that they go ahead and do a Columbus date while they're in the state so I don't have to drive so far, but I'll do what I have to do. Wilco has been debuting quite a bit of new material on their recent Canadian tour, including a great jam called "Impossible Germany" and possibly the most pop-sounding Wilco tune ever called "What Light?". I'd like to post these and some other new Wilco tracks in the near future, so stay tuned for that. Only a week left until
Kuyahoga
!