This is what happens when school starts. And this is the kind of post I do when I start feeling guilty for not keeping this thing semi-up-to-date. On October 7th I traveled to Cincinnati for the Tall Stacks Festival to see Wilco. As an added bonus, I got to see some other acts such as the Heartless Bastards, Big Sandy and His Fly-Rite Boys, Rhett Miller and the Believers, and Old Crow Medicine Show. It was all very enjoyable, although the highlight of it all was still definitely Wilco. I was front and center, and even though the setlist was about a third shorter than the first time I saw them, the overall experience was just so much more intense. I got to hear new songs such as "Impossible Germany" and "Walken" as well as a brand new song called "Let's Not Get Carried Away", a rocking number with a drum solo for Glenn. The band sounded really tight, definitely more so than when I saw them towards the beginning of the Ghost is Born tour. A great night, and likely the last time I'll be seeing any of the Wilco folks until sometime next year.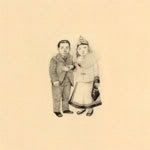 Last week I picked up the Decemberists' new album
Crane Wife
on the suggestion of a friend. I'm actually quite surprised with it. I was expecting sea-shanties and folk tunes but it sounds like someone handed Collin Meloy a box of classic rock records. Parts of the 12-minute epic "The Island" sound like the were ripped straight out of a Jethro Tull record, while "The Perfect Crime No. 2" sounds like a Steely Dan number. Overall it's an interesting, if slightly in-cohesive, listen that I've been enjoying enough to actually start thinking about getting tickets to their show at Promowest in November. This week I'm really looking forward to picking up Jeff Tweedy's new DVD
Sunken Treasure Live in the Pacific Northwest
. Wilcoworld is going to be doing a webcast of the entire movie from 9-midnight tomorrow night. You really can't beat getting to see a movie for free the night before it comes out, even if it is only streaming quality. I'll do a little review of it sometime this week.